Introduced in 2016, the 'Best Paper of the Year' award for Particle and Fibre Toxicology represents the best cutting-edge research published in the journal. The paper is selected by the journal's Editorial Board and is scored by its citations, downloads, and impact in the year.
2021 Winner
Physicochemical characterization and genotoxicity of the broad class of carbon nanotubes and nanofibers used or produced in U.S. facilities
Kelly Fraser, Vamsi Kodali, Naveena Yanamala, M.Eileen Birch, Lorenzo Cena, Gary Casuccio, Kristin Bunker, Traci L. Lersch, Douglas E. Evans, Aleksandr Stefaniak, Mary Ann Hammer, Michael L. Kashon, Theresa Boots, Tracy Eye, John Hubczak, Sherri A. Friend, Matthew Dahm, Mary K. Schubauer-Berigan, Katelyn Siegrist, David Lowry, Alison K. Bauer, Linda M. Sargent and Aaron Erdely
Particle and Fibre Toxicology 2020;17, 62
Past recipients
2020 Winner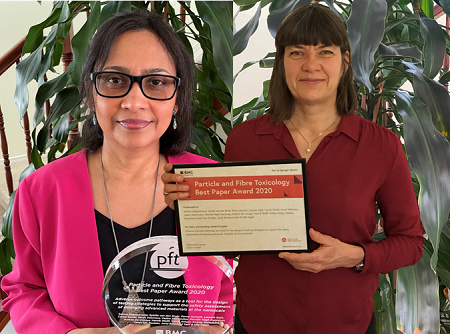 Adverse outcome pathways as a tool for the design of testing strategies to support the safety assessment of emerging advanced materials at the nanoscale
Sabina Halappanavar, Sybille van den Brule, Penny Nymark, Laurent Gaté, Carole Seidel, Sarah Valentino, Vadim Zhernovkov, Pernille Høgh Danielsen, Andrea De Vizcaya, Henrik Wolff, Tobias Stöger, Andrey Boyadziev, Sarah Søs Poulsen, Jorid Birkelund Sørli and Ulla Vogel
Particle and Fibre Toxicology 2020;17:16
This article examining the Adverse Outcome Pathway framework in the context of nanotoxicology was selected by the journal's Editorial Board as the 'Best Paper of the Year' for 2020.
2019 recipient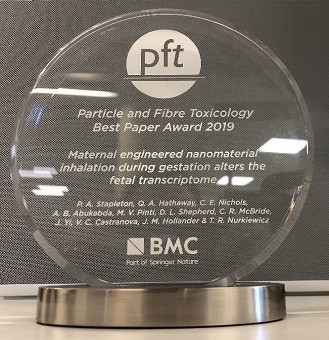 Maternal engineered nanomaterial inhalation during gestation alters the fetal transcriptome
P. A. Stapleton, Q. A. Hathaway, C. E. Nichols, A. B. Abukabda, M. V. Pinti, D. L. Shepherd, C. R. McBride, J. Yi, V. C. Castranova, J. M. Hollander, and T. R. Nurkiewicz
Particle and Fibre Toxicology 2018;15:3
The Best Paper Award for 2019 was presented to Dr Stapleton and colleagues for their outstanding research paper showcasing the first evidence that maternal engineered nanomaterial inhalation impacts the fetal epigenome.
The award was announced by Editor-in-Chief Prof Flemming Cassee at the 12th International Particle Toxicology Conference in Salzburg, Austria.
2018 recipient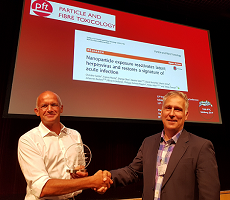 Nanoparticle exposure reactivates latent herpesvirus and restores a signature of acute infection
Christine Sattler, Franco Moritz, Shanze Chen, Beatrix Steer, David Kutschke, Martin Irmler, Johannes Beckers, Oliver Eickelberg, Philippe Schmitt-Kopplin, Heiko Adler and Tobias Stoeger
Particle and Fibre Toxicology 2017;14:2
Read the Q&A blogpost with authors Heiko Adler and Tobias Stöger here.
2017 recipient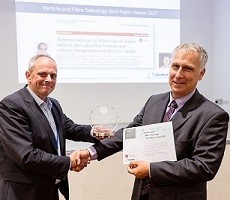 Maternal exposure to diluted diesel engine exhaust alters placental function and induces intergenerational effects in rabbits
Sarah A. Valentino, Anne Tarrade, Josiane Aioun, Eve Mourier, Christophe Richard, Michèle Dahirel, Delphine Rousseau-Ralliard, Natalie Fournier, Marie-Christine Aubrière, Marie-Sylvie Lallemand, Sylvaine Camous, Marine Guinot, Madia Charlier, Etienne Aujean, Hala Al Adhami, Paul H. Fokkens, Lydiane Agier, John A. Boere, Flemming R. Cassee, Rémy Slama and Pascale Chavatte-Palmer
Particle and Fibre Toxicology 2016;13:39
2016 recipient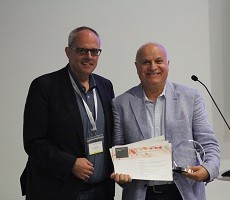 Advanced computational modeling for in vitro nanomaterial dosimetry
Glen M. DeLoid, Joel M. Cohen, Georgios Pyrgiotakis, Sandra V. Pirela, Anoop Pal, Jiying Liu, Jelena Srebric and Philip Demokritou
Particle and Fibre Toxicology 2015;12:32