Mechanistic understanding of nanoparticles' interactions with extracellular matrix: the cell and immune system
Particle and Fibre Toxicology
2017
14:22
Received: 18 November 2016
Accepted: 8 June 2017
Published: 24 June 2017
Abstract
Extracellular matrix (ECM) is an extraordinarily complex and unique meshwork composed of structural proteins and glycosaminoglycans. The ECM provides essential physical scaffolding for the cellular constituents, as well as contributes to crucial biochemical signaling. Importantly, ECM is an indispensable part of all biological barriers and substantially modulates the interchange of the nanotechnology products through these barriers. The interactions of the ECM with nanoparticles (NPs) depend on the morphological characteristics of intercellular matrix and on the physical characteristics of the NPs and may be either deleterious or beneficial. Importantly, an altered expression of ECM molecules ultimately affects all biological processes including inflammation. This review critically discusses the specific behavior of NPs that are within the ECM domain, and passing through the biological barriers. Furthermore, regenerative and toxicological aspects of nanomaterials are debated in terms of the immune cells-NPs interactions.
Keywords
Extracellular matrixNanoparticleInflammationBiological barriers
Background
Extracellular matrix (ECM) represents a complex network of variously modified proteins and the glycosaminoglycan, hyaluronan, highly organized in a form of a suprastructure which ultimately constitutes the cell microenvironment [
1
]. The ECM proteins are usually classified into two main categories: fibrous proteins constituted of various collagens and elastin, and glycoproteins including fibronectin, glycosaminoglycan decorated protein-proteoglycans and laminin [
2
] (Fig.
1
). Cells are embedded in hydrogels comprising these different biopolymers and proteoglycans that fill the extracellular space [
3
]. Moreover, the ECM architecture is highly specialized and tightly regulated as the result of inherent properties of the component molecules, as well as of the biologic potency of the dwelling cells. The ECM is a fundamental component of the microenvironment of cells exhibiting both cell and tissue type specificity, which facilitates cell biological functions and defines tissue properties. Concisely, the ECM components provide the mechanical and structural support as they define the size, morphology and strength of tissues
in vivo
[
4
]. Additionally, this polymer-based microenvironment is also important during growth, development, and wound repair as well as key to various disease processes. Therefore, it acts as a pool for signaling molecules including inflammatory mediators, transporting signals from other origins to proliferating, differentiating and migrating cells [
5
–
7
].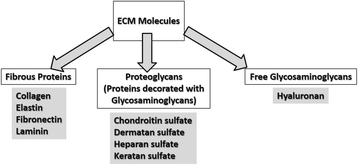 The evolution of nanotechnology and application of nanoparticle (NP) based materials in medicine have opened a new era in diagnosis and treatment improvement for several health issues. Considering the scanty amount of information about the inflammatory changes of the ECM interacting with the NPs, this review aims to elucidate the interplay and accumulation of NPs by the ECMs. It will outline key chemical, physical, and biological properties that influence distinctive domains of the neighboring biological barriers and the resultant effects on homeostasis and immune processes.
Conclusions
The focus of the scientific community on the use of nanotechnology for technical and consumer applications and in medical diagnostic and treatment during the last decades has resulted in establishing a substantial database. We need to further deepen our knowledge on the interaction of various NPs with specific biological barriers and compartments in optimizing internalization and site specific drug release. However, although it is clear that the content of the extracellular microenvironment critically affects the behavior of NP and their interaction with biological barriers, there is still limited knowledge about the mechanisms and role of different biomolecules in mediating the interaction of these materials with the assembly of ECM. ECM is a highly organized complex network of structural proteins, proteoglycans and glycosaminoglycans. Alteration in the expression of ECM molecules can ultimately affect the immune cell activation, differentiation and survival. These modifications eventually influence the propagation of the inflammatory response. Depending on the targeted tissue, the NPs encapsulated drugs aim to cross specific barriers, including endothelium, or hepatocyte barrier and, at each of these points, there are discrete interactions of the NPs with ECM components. Thus, functionalization and polarization of the drug carrier NPs with suitable peptides and other compounds concurrently enhances their therapeutic effects, by facilitating the transport and bioavailability of encapsulated agents through the ECM, as well as cellular compartments. Taking into account the continuously growing release of various NPs into the environment there is a demanding necessity to define and categorize ECM/NPs interactions and to examine their relevance regarding toxicity and inflammation in various biological processes. Therefore, future research should be focused on elucidating the molecular transport mechanisms that will provide groundwork for coherent design of more effective nano-carriers, improve their performance and target specific intracellular compartments.
Abbreviations
Ag/Ab:

Antigen/antibody
AgNPs:

Silver NPs
Akt:

Protein kinase B
AMPK:

Adenosine monophosphate kinase-related kinase
anti-Gal:

Anti-Galactose alpha 1,3-galactose
ASGPR:

Asialoglycoprotein receptor
aSNP:

Amorphous silica NP
ATF-6:

Activating transcription factor-6
AuNP:

Gold NPs
C1q:

Complement protein 1q
CB:

Carbon black
CCL24:

Eotaxin-2
CeO2 :

Cerium oxide
CX3CL1:

Fractalkine
ECM:

Extracellular matrix
EGFR:

Epidermal growth factor receptor
ERK:

Extracellular signal regulated kinases
FDA:

Food and drug administration
G-CSF:

Granulocyte colony-stimulating factor
GM-CSF:

Granulocyte-macrophage colony stimulating factor
GSH:

Glutathione
GSNO:

S-nitrosoglutathione
GSR1:

Glutamine sensing regulator 1
GSTM3:

Glutathione S-transferase Mu 3
HO-1:

Heme oxygenase-1
ICAM-1:

Intercellular adhesion molecule-1
Ig:

Immunoglobulin
IL:

Interleukin
IP-10:

Interferon (IFN)-γ -induced protein-10
IRE1:

Inositol-requiring protein-1
IRF5:

Interferon regulatory factor 5
IκB:

Inhibitor of kappa B
JNK:

c-Jun NH2-terminal kinases
LKB1:

Liver kinase B1
LOX:

Lysyl oxidase
MAPK:

Mitogen-activated protein kinases
MCP-1:

Monocyte chemoattractant protein-1
MDCK:

Madin Darby Canine Kidney
MFAP4:

Microfibril-associated protein
MLR:

Membrane/lipid rafts
MMP-1:

Matrix metalloproteinase-1
MMPs:

Matrix metalloproteinases
mtDNA:

Mitochondrial DNA
N1N2:

N-Terminal cystatin-like domain
NADPH:

Nicotinamide adenine dinucleotide phosphate
NMSNs:

Amino-functionalized mesoporous silica nanoparticles
NO:

Nitric oxide
NOX:

NADPH-oxidase
NP:

Nanoparticle
ODN:

Oligodeoxynucleotides
PAI-1:

Plasminogen activator inhibitor-1
PDGF:

Platelet-derived growth factor
PDGF-Rα:

PDGF receptor α
PGC-1α:

Peroxisome proliferator activated receptor gamma co-activator-1alpha
P-gp:

P-glycoprotein
PI3K:

Phosphoinositide 3-kinases
PLGA:

Poly-(lactic-co-glycolic) acid
PMN-derived:

Polymorphonuclear neutrophil-derived
POR:

Cytochrome P450 oxidoreductase
RANTES; CCL5:

Regulated on activation, normal T cell expressed and secreted
ROS:

Reactive oxygen species
S1P:

Sphingosine 1-phosphate
SP-D:

Surfactant protein-D
Src:

Steroid-receptor coactivator
TGF-β:

Transforming growth factor-beta
TIMPs:

Tissue inhibitors of matrix proteases
TiO2 :

Titanium dioxide
Tregs:

Regulatory T cells
VEGF-A:

Vascular endothelial growth factor-A
VSOP:

Very small superparamagnetic iron oxide particles
Alpha-Gal:

Alpha-galactosidase
Declarations
Acknowledgements
Not applicable.
Availability of data and materials
Not applicable.
Funding
This work is supported by the ERA.NET RUS Plus program (ID#169 - NABUCO), the Grant of Russian Science Foundation (15–14-20032) and COST Action TD1204 MODENA.
Authors' contributions
ABE; wrote the sections extracellular matrix – nanoparticles – aspects of immune interactions/considerations, membrane interactions and compiled the manuscript, DN; wrote the background and basic components of the extracellular matrix, MN; wrote the sections related to biological barriers, PHN; revised the manuscript, AOD; wrote the section related to nanoparticles-targeting, MIS; revised the manuscript, KG; revised the manuscript, AMT; designed the Project and edited the manuscript. All authors read and approved the final manuscript.
Competing interests
The authors declare that they have no competing interests.
Consent for publication
Not applicable.
Ethics approval and consent to participate
Not applicable.
Publisher's Note
Springer Nature remains neutral with regard to jurisdictional claims in published maps and institutional affiliations.
Open AccessThis article is distributed under the terms of the Creative Commons Attribution 4.0 International License (http://creativecommons.org/licenses/by/4.0/), which permits unrestricted use, distribution, and reproduction in any medium, provided you give appropriate credit to the original author(s) and the source, provide a link to the Creative Commons license, and indicate if changes were made. The Creative Commons Public Domain Dedication waiver (http://creativecommons.org/publicdomain/zero/1.0/) applies to the data made available in this article, unless otherwise stated.
Authors' Affiliations
(1)
Department of Toxicology, Faculty of Pharmacy, Gazi University, Ankara, Turkey
(2)
Laboratory of Anatomy-Histology-Embryology, Medical School, University of Crete, Heraklion, Greece
(3)
"Victor Babes" National Institute of Pathology, Immunology Department, Bucharest, Romania
(4)
Institute of Medical Psychology, Otto-von-Guericke University, Magdeburg, Germany
(5)
Department of Toxicology, University of Medicine and Pharmacy, Faculty of Pharmacy, Craiova, Romania
(6)
Master School Biomaterials, D.I. Mendeleyev University of Chemical Technology, Moscow, Russia
(7)
Scientific Educational Center Nanotechnology, Engineering School, Far Eastern Federal University, Vladivostok, Russian Federation
(8)
Center of Toxicology Science & Research, Medical School, University of Crete, Heraklion, Greece