The unrecognized occupational relevance of the interaction between engineered nanomaterials and the gastro-intestinal tract: a consensus paper from a multidisciplinary working group
Particle and Fibre Toxicology
2017
14:47
Received: 24 July 2017
Accepted: 8 November 2017
Published: 25 November 2017
Abstract
Background
There is a fundamental gap of knowledge on the health effects caused by the interaction of engineered nanomaterials (ENM) with the gastro-intestinal tract (GIT). This is partly due to the incomplete knowledge of the complex physical and chemical transformations that ENM undergo in the GIT, and partly to the widespread belief that GIT health effects of ENM are much less relevant than pulmonary effects.
However, recent experimental findings, considering the role of new players in gut physiology (e.g. the microbiota), shed light on several outcomes of the interaction ENM/GIT. Along with this new information, there is growing direct and indirect evidence that not only ingested ENM, but also inhaled ENM may impact on the GIT. This fact, which may have relevant implications in occupational setting, has never been taken into consideration.
This review paper summarizes the opinions and findings of a multidisciplinary team of experts, focusing on two main aspects of the issue: 1) ENM interactions within the GIT and their possible consequences, and 2) relevance of gastro-intestinal effects of inhaled ENMs. Under point 1, we analyzed how luminal gut-constituents, including mucus, may influence the adherence of ENM to cell surfaces in a size-dependent manner, and how intestinal permeability may be affected by different physico-chemical characteristics of ENM. Cytotoxic, oxidative, genotoxic and inflammatory effects on different GIT cells, as well as effects on microbiota, are also discussed.
Concerning point 2, recent studies highlight the relevance of gastro-intestinal handling of inhaled ENM, showing significant excretion with feces of inhaled ENM and supporting the hypothesis that GIT should be considered an important target of extrapulmonary effects of inhaled ENM.
Conclusions
In spite of recent insights on the relevance of the GIT as a target for toxic effects of nanoparticles, there is still a major gap in knowledge regarding the impact of the direct versus indirect oral exposure. This fact probably applies also to larger particles and dictates careful consideration in workers, who carry the highest risk of exposure to particulate matter.
Keywords
Ingested nanoparticlesInhaled nanoparticlesDirect toxicityIndirect toxicityWorkers' exposureGastrointestinal tractMicrobiota
Background
Despite the large and growing number of ENM used in agri-food products [1–5], oral ingestion has received significantly less attention than the pulmonary route and therefore there is relatively lower information on the possible toxic effects of ENM on the gastro-intestinal tract (GIT). This may be due to the fact that the study of the impact of ENM on the GIT (and vice versa) is a rather complicated issue: both food and the processes that break down and transform food ingredients (e.g., physical forces, osmotic concentration and pH gradients, digestive enzyme, redox conditions and salinity levels) may in fact transform, aggregate and dissolve ENMs in ways that alter their naive and inherent properties, therefore potentially affecting their biological reactivity as well as their toxicological profiles.
This picture is however changing: It is becoming clear that the gut micro-organisms (the microbiota) play a pivotal role in maintaining both local (intestinal) and systemic homeostasis and that they may influence ENM and be influenced by them [6, 7]. Very recent in vitro and in vivo data, discussed in the first section of the present review, have shown that ingested ENM may induce substantial adverse effects unrecognized in past studies; last but not least, there is indirect growing evidence that inhaled ENM, representing the most common pathway of exposure in workers, may have a substantial impact on the GIT, as shown in the second section of the review.
In September 2016, the Italian Society of Occupational Medicine and Industrial Hygiene (SIMLII) hosted a research workshop in order to exchange and merge knowledge and expert point of view on the above-mentioned topics. In the following sections, we outline how these topics have been developed and summarize the state of the evidence about their possible impact on future research in the field of nanotoxicology.
Interaction of ingested ENM with the GIT
Impact of the inhaled enm on the git and occupational implications
GIT is a relevant target for extrapulmonary effects of inhaled ENM
Inhalation is the main route through which people, in particular workers, may come in contact with ENM, and the lung is therefore the most obvious target of their possible toxic effects. However, in recent years, a lot of extrapulmonary effects of inhaled ENM, regarding almost all organs and organ systems, have been reported [
108
]. As summarized in Fig.
1
, these effects may be related to direct mechanisms (i.e. due to nanoparticles crossing the alveolo-capillary barrier) or to indirect mechanisms (i.e. due to the release of toxic mediators following nanoparticles/lung interaction). It is important to note that translocation to the systemic circulation is very low, below 0.5% of the exposure concentration [
109
], however, in the case of chronic exposure, accumulation of nanoparticles in target organs might reach a critical threshold causing injury.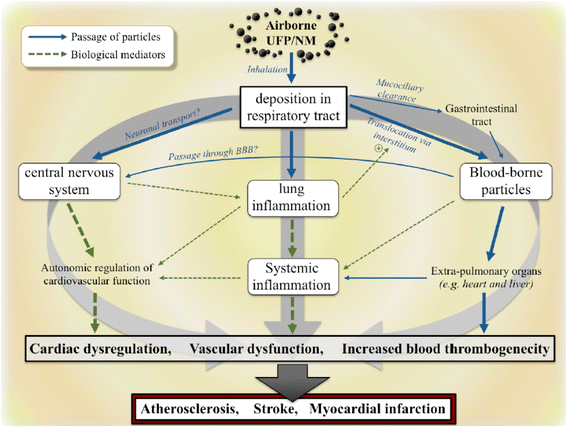 GIT: An important overlooked target of extrapulmonary effects of inhaled ENM
Among extrapulmonary effects, those on the gastrointestinal tract have not explored yet. This is surprising, because inhaled nanoparticles may reach the gastro-intestinal tract at a much larger amount than other organs. In fact, like other organs and organ systems, the GI tract can be exposed to nanoparticles crossing the alveolar barrier and reaching the systemic circulation, as suggested by the substantial fecal excretion of intravenously-injected ENM [93]. The amount of ENM reaching the gut through the systemic circulation is probably greater than that reaching other sites, as shown by Lee et al. who found that silver ENM were transferred from systemic circulation into the gut at a much higher rate than into the kidney or other biological sites [110]. In addition to ENM crossing the aveolar-capillary barrier (the only mechanism of direct effect for other organs), the GIT may be also exposed a) to inhaled ENM cleared from the lung through the muco-ciliary escalator (which is a major clearance pathway for ENM from the lung as compared with translocation through the alveolo-capillary barrier [111] and b) to nanoparticles directly ingested while breathing air (the so called "aerophagia"). People affected by this common disorder ingest air (and its content) at a much higher rate than normal persons [112].
The relevance of gastro-intestinal exposure following ENM inhalation is strongly supported by the recent finding that after pulmonary exposure of rats to CeO2 ENM, the highest amount of ENM was recovered from feces (71–90%), ENM recovered from the lungs being 7–18%, whereas urine and other extra-pulmonary organs both contributed between 4 and 6% of the total recovered mass [113]. Of note, the presence of ENM in feces is by itself the proof of a significant interaction with the GIT, since it implies a contact with the intestinal microbiome/microbiota, a major player in GI physiology and pathology [114, 115].
As reported for other organs and organ systems, there is evidence that the gut may be sensitive to mediators released by the inflamed lung, the so-called lung-gut axis. This may be the case for interleukin-6 (IL-6), which is systemically elevated in patients with emphysema [116] and is implicated in the pathogenesis of inflammatory bowel disease [117, 118]. In patients with asthma, histopathological and functional alterations of the gastro-intestinal tract have been described [119], probably related to the circulation of activated lymphocytes between the mucosal tissues of the lungs and of the gastrointestinal tract [120].
As shown in Fig. 1, systemic inflammation has been reported after pulmonary exposure to ENM [121], and it is considered a major pathophysiological mechanism in order to explain the extrapulmonary effects of ENM. On the basis of the above reported evidence, these effects are to be expected also for the GI tract after inhalation of nanoparticles.
In summary, on the basis of the currently available evidence, not only the direct and the indirect mechanisms evoked for the effects on other extrapulmonary sites are plausible for the gastro-intestinal tract, but their impact might be even greater for this biological site in comparison to others.
Peculiar effects on GIT of inhaled ENM in comparison to ingested ENM
The reasons why the possible effects of inhaled ENM on the GI tract have been neglected until now are probably two: from one side the lack of substantial epidemiological evidence of relevant gastrointestinal effects in workers inhaling particles of larger size; from the other one, the fact that the very large amounts of nanoparticles ingested with food and drinks seem not to cause substantial damage.
As far as the first argument is concerned, only sparse data linking exposure to particulate and functional [122] or organic [123] GI diseases are available. Indeed, a systematic investigation of this possible association has not been performed. In any case, it should be considered that ENM may have enhanced or novel toxic properties in comparison to the same material in the bulk form, therefore the lack of robust epidemiological data for the inhaled bulk form cannot be translated to inhaled nanoparticles.
The assumption that ingested ENM are not harmful (second point), is questioned by recent experiments showing that ingested ENM may cause important consequences on the homeostasis of the GI tract, in particular on the gut microbiome, starting a chain of events leading to significant physiological and anatomical alterations [7].
In addition, it should be considered that the biocorona of inhaled nanoparticles is quite different in comparison to that of ingested nanoparticles: the first are primarily covered by biomolecules of the fluid lining the respiratory tract, whereas the biocorona of the second ones is mainly determined by the proteins, lipids and carbohydrates present in the food, which they are usually ingested with. The different biological identity between inhaled and ingested nanoparticles may be associated with quite different biological effects, given the increasing awareness of the role of biocorona in governing the activity of nanoparticles in living organisms [124].
As an example, in experiments exploring the biological fate of nanoparticles ingested with food, it was found that gold nanoparticles ingested with milk are decorated with beta lactoglobulin, a protein of bovine milk, and that the protein is totally displaced by bile salts in the small intestine (whose excretion from the gallbladder into the intestine is in turn stimulated by food ingestion) so that a complex formed by a core of gold nanoparticles and a surface of bile salts is formed [125]. This complex resembles the complex lipid droplet/bile salts, which allows the absorption of lipids through the intestinal epithelium, otherwise not permeable to them. It can therefore be speculated that a similar phenomenon may occur for inorganic nanoparticles ingested with milk, allowing their transport through the intestinal epithelial cells.
On the other hand, the bio-corona of inhaled nanoparticles is characterized by a relatively fixed pattern of phospholipids derived from the contact with the pulmonary surfactant, whereas the protein composition changes according to the surface properties of the inhaled particles [126]. Nothing is known about the interaction of this nanoparticle/biocorona complex with the biological fluids of the gastrointestinal tract, (which are in any case of different composition than those encountered by nanoparticles ingested with food, due to the lack of food-related stimulation of biliary and pancreatic secretions) and we suggest that this topic should be explored (see recommendations).
As highlighted above, pristine nanoparticles (i.e. nanoparticles without a pre-formed biocorona) can also be ingested with aerophagia. These nanoparticles are covered in the stomach with a protein corona mainly composed by pepsin, a proteolytic protein secreted by the gastric chief cells. This protein seems to influence the aggregation status of silver nanoparticles, which may have implications on their toxicity [127]. Furthermore, the presence of a pepsin corona might explain the reported lack of antimicrobial effect of silver nanoparticles in the distal murine intestine [100].
A third type of biocorona may characterize ENM reaching the GIT through the blood after pulmonary pulmonary exposure: in this case ENM are covered with a biocorona primarily formed in the lung and subsequently modified in the blood [
128
]. Table
2
summarizes the different biocorona composition of nanoparticles reaching the gastro-intestinal tract through different modalities, and highlights possible biological effects.
Table 2
Different bio-corona and biological effects of nanoparticles reaching the gastro-intestinal tract through different modalities
| Modality | Primary bio-corona (before coming in contact with the GI tract) | Available information on changes of biocorona during GI Transit | Effects on biokinetics/activity | Relative amount of nanoparticles |
| --- | --- | --- | --- | --- |
| Ingested with food | Derived from interaction with food | Biocorona formed with the milk protein beta-lactoglobulin may be replaced by biliary salts in small intestine | The complex nano-particle/biliary salts may be efficiently absorbed in the small intestine. | High |
| Ingested with air (aerophagia) | No primary biocorona | A pepsin biocorona is formed in the stomach. | May affect the agglomeration status of nanoparticles | Low |
| Ingested after muco-ciliary clearance | Formed with surfactant phospholipids and proteins in the lung. | Unknown | Unknown | Substantial |
| Reaching the GI tract through systemic circulation (after lung crossing) | Formed with surfactant phospholipids and proteins in the lung. It may be partly modified by the contact with blood proteins (128) and by the contact with bile before being excreted in the gut | Unknown | Unknown | Low |
Another important point to be taken into consideration is that nanoparticles reaching the gut following inhalation may have a synthetic identity different from that of ingested nanoparticles. As an example, some nanoparticles at high risk of being inhaled (e.g. carbon nanotubes) have a low chance to reach the gastrointestinal tract through ingestion. Therefore, not only the same nanoparticle may have different effects on the GI tract, depending on the modality of exposure, but also some nanoparticles reaching the gut following inhalation may have a low chance to do so by ingestion with food and may therefore cause biological responses which cannot be observed with ingested nanoparticles.
Discussion
The increasing interest in nanomaterials for advanced technologies, consumer products, and biomedical applications has led to great excitement about potential benefits, but also concerns over the potential for adverse human health effects. The gastrointestinal tract represents a likely route of entry for many nanomaterials. In occupational settings, gastrointestinal exposure may result from the mucociliary clearance of inhaled nanomaterials, or from a direct exposure in case of accidental events or when proper standards of personal and industrial hygiene are not met [129].
The gastrointestinal epithelium and supporting elements primarily act as a physical and biochemical barrier between the luminal compartment and the interior of the human body [130]. A key factor important to understand the gastrointestinal toxicological profile of ENM is the complex "interplay" between the great variability in ENM physico-chemical properties and the absolutely changeable conditions found along the gastrointestinal system. ENM chemical composition, structure/cristallinity, size and size distribution, shape, concentration, surface area, functionality and charge may all vary according to the methods of ENM production, preparation processes, and storage, but may also be modified when ENM are introduced into biological compartments. A number of gastrointestinal luminal parameters, such as physical forces, osmotic concentration, pH, digestive enzymes, (i.e. buccal amylase, gastric pepsin, and intestinal pancrease and lipase), together with different gastrointestinal transit time, dietary status, other biochemicals and commensal microbes may potentially impact ENM properties therefore affecting their toxicological profile. In this scenario, future researches should provide a systematic and deeper characterization of both the primary physico-chemical features of ENM and those secondarily acquired through the interactions occurring along the gastrointestinal tract, e.g. the degree of aggregation or agglomeration and the percentage of available ions for those ENM undergoing dissolution, known influencing factors of NP toxicity. Moreover, investigations focused on the possible toxic impact of ENM on the gastrointestinal system should elucidate which parameters are the strongest inducers of any changes in ENM features, and, on the other side, whether the full range of nanomaterials may be modified in the gastrointestinal milieu, or if only certain categories of ENM are subjected to such modifications [97]. Due to their intrinsically increased surface/mass ratio, ENM may adsorb biomolecules on their surface upon contact with food and/or biological fluids in gastrointestinal compartments, resulting in the formation of a biomolecular "corona" which may affect the uptake, bioaccumulation and biotransformation of NPs possibly leading to unanticipated, reduced or augmented, toxicities [131, 132]. All these aspects should be carefully considered to better correlate ENM primary and acquired properties and biological effects, in order to support the production of "ENM safe by design" that, while maintaining most of the innovative and revolutionary ENM features may, at the same time, be characterized by lower toxicity [133].
Additionally, M cell- targeting of ENMs should be carefully considered as another possible pathway of interaction between ENMs and the intestinal milieu which may have possible systemic implications. M cells are specialized epithelial cells of the gut-associated lymphoid tissues (GALT) that can play an immunosensing and surveillance role by delivering luminal antigens through the follicle-associated epithelium to the underlying immune cells. Recent evidence has supported the critical function of endogenous and synthetic nanomineral chaperones in the efficient transport of molecules across the epithelial barrier of the lymphoid follicles in the small intestine [27, 31]. In this perspective, further investigation should be focused to assess whether ENMs may be involved in protecting molecules from the GI degradation, favoring an effective M-cell delivery, and a greater transfection efficacy, therefore promoting tolerogenic or stimulatory immunological responses. Overall, this may be important to define the role of ENMs in vaccine delivery systems for priming more effective humoral and mucosal immune responses in the hosts [134].
A challenging issue relates also on the difficulties to extrapolate experimental data to realistic human/occupational exposure contexts. In vitro studies demonstrated the ability of several types of ENM to induce cytotoxic, inflammatory, oxidative stress as well as genotoxic responses in exposed cells. However, in vitro models may not accurately resemble the complexity of the in vivo response [135]. Therefore, in the attempt to improve physiological relevance of in vitro models and better mimic in vivo gastrointestinal situations, including conditions of inflamed mucosa, multi-cellular cultures have been proposed. These may incorporate mucus secreting goblet cells [34], microfold-cells [61], and even immune-competent macrophages and dendritic cells [136] and have shown a diverse, as well as more predictive of in vivo response, susceptibility to the ENM injuries compared to the cellular monolayers [48]. Moreover, for the assessment of the toxicity of orally ingested ENM, additional refinements, for instance, pre-treatment or co-administration of particles with gastrointestinal reconstituted bio-fluids or food matrix components, may be employed in order to achieve more meaningful in vitro tests, with the aim to deeply understand how protein corona changes may affect ENM uptake, metabolism and toxicological behavior.
In vivo studies, on the other hand, can provide information concerning ENM toxico-kinetics in gastrointestinal and extra-intestinal tissues and ENM toxico-dynamic behaviors in relation to their physicochemical properties. In this regard, future in vivo studies should overcome the difficulty to extrapolate findings from the generally, higher-doses, short-term investigations on animal models, to real low-dose, long-term conditions of exposure experienced in general living and occupational settings, through the adoption of more realistic experimental designs. Moreover, in vivo studies should provide useful data to identify possible biomarkers of exposure and early effect as well as indicators of susceptibility to greater ENM induced adverse health outcomes. Macrophage-mediated mucociliary escalation followed by fecal excretion is a pathway for clearing the inhaled NPs from the body [129, 137]. Although it is rather difficult to routinely employ feces as a suitable biological matrix for occupational biomonitoring, on the account of the aforementioned clearance mechanism, in the case of metal- or metal oxide-NP exposure, the measurement of the elemental metal content in feces should be viewed as a means to evaluate the recent/current exposure to this kind of NPs [129]. Moreover, future investigations should explore possible biomarkers of early effect, particularly as concerns mucosal inflammatory alterations, which may be detected in fecal matrix. Clinical experience, carried out with inflammatory bowel diseases, Chron's disease or ulcerative colitis, in this sense, may provide useful suggestions for potential biomarkers to be investigated and validated in the nano-toxicological gastrointestinal field [138]. Additionally, taking advantage of more innovative "omics techniques", a comprehensive analysis of differential gene and protein expression should be performed to derive molecular profiles indicative of NP exposure or early effect which may also explain possible early modes of cellular response to NPs. This may be helpful to understand also biological processes affected by ENM or possibly involved in their toxico-dynamic behavior to identify potential parameters of individual susceptibility to ENM adverse effects [139]. Importantly, in the attempt to define conditions of greater susceptibility to ENM adverse outcomes, intra- and inter-individual differences in normal physiology as well as in specific diseases should be deeply analyzed. These conditions, in fact, may alter the gastrointestinal environments affecting ENM stability and movement as well as epithelial permeability. Age, gender-specific differences, pregnancy status, malnutrition, sleep cycle and stress, as well as inflammatory bowel diseases can all result in increased lining permeability and can augment the susceptibility to the absorption of some types of ENM and to the induction of possible toxic effects.
An emerging aspect that deserves deep attention regards the potential interactions of ingested ENM with the gut microbiota [7].
Few studies are still available concerning such interesting issue, and some of them showed conflicting results. In this field, some knowledge gaps should be overcome by future investigations, particularly concerning which pathological consequences may derive from microbiota alterations induced by ENM. In an opposite perspective, alterations in ENM toxico-kinetic and dynamic profile caused by the same microbiota as well as by pre-existing altered microbial states, such as gram negative bacterial overgrowth, should be clarified. To deeply assess such issues, fecal samples as representative models of the microbiota of the colon, together with samples of the human small intestine microbiota obtained from ileostomies of people undergoing colon surgery, may be used. Moreover, the employment of «humanized» models by the inoculation of human gut microbiota to gnotobiotic animals should be carefully considered as an ideal model to study in vivo effects of ENM in order to transfer animal data to humans. The study of the interactions between ENM and the gastrointestinal tract may provide the identification of innovative biomarkers based on the possible specific modifications induced by ENM on the gut microbiota. However, confounding effects related to individual characteristics, pathological statuses, diet, drugs and co-exposure to other xenobiotics should be taken into careful consideration to adequately interpret these results.
Overall, this information would provide deep insight into possible ENM toxicological aspects that have not been sufficiently explored up to date, with the aim to reach a suitable assessment of risks in general living and occupational ENM exposure settings.
In this perspective, another crucial aspect which needs to be adequately explored in the future is represented by the possible gastro-intestinal effects and gastrointestinal-mediated systemic effects of inhaled ENM. There is evidence that GIT may be a relevant target for extra-pulmonary effects of inhaled ENM, and that these effects may be different (and possibly more relevant) than those induced by ingested ENM. In this respect, experimental studies focused to this specific topic are needed. We recommend in particular:
1.

Assessing the impact of GI fluids and (gut) microbiome on the biocorona of particles that are deposited in the respiratory tract and after mucociliary clearance being swallowed versus nanoparticles ingested with food and how this affects the biodistribution

2.

Assessing the toxic effects of inhaled nanoparticles (i.e. incubated with pulmonary surfactant) on gastric cells, cells of the small intestine and cells of the colon (including the interaction with the microbiome), as compared with toxic effects of nanoparticles ingested with food using in vitro methods

3.

Perform a systematic comparison of effects of inhaled nanoparticles on the gastrointestinal tract and on intestinal microbiome compared with ingested nanoparticles.
The results of these studies might be the basis for refining the focus on possible effects of ENM on human at high risk of lung exposure (i.e. workers directly or indirectly involved in nanotechnology).
Conclusions
The gastro-intestinal tract (GIT) is considered to be a potential target of ENM ingested with food and water. It is believed that the possible biological effects on the gastrointestinal tract (GIT) deriving from ENM ingestion involve mainly the consumers, whereas workers may be only marginally affected, the inhalation being the main way through which they may come in contact with ENM. The biological effects of ENM on this organ are poorly known both because of inherent difficulties in their assessment due to the complex GIT environment and because most available experimental studies suggest the lack of overt toxicity.
In this review we discussed the most relevant gaps in the knowledge of the biological effects of ENM on the GIT and demonstrate that, by logically connecting the available sparse information on this topic, it is possible to identify sequential key processes, spanning from the alterations of intestinal permeability to functional and organic cellular damage, which may shed light on the pathophysiological mechanisms of the gut/ENM interaction.
We also re-interpreted the results of some experiments, such as, for example, the presence in the stools of almost the total amount of ingested ENM, a finding generally considered to be an indicator of the lack of substantial local and systemic effects of the ingested ENM; however, the recent evidence that ENM may have a relevant impact on the gut microbiota, even in the absence of substantial contact with GIT cells, indicates that local and systemic biological effects mediated by changes in gut microbiota are possible even in this situation.
Last but not least, we challenged the common belief that the possible biological effects of ENM on the GIT are confined to consumers, showing that inhaled ENM, which represent the main route of ENM exposure for workers, may induce peculiar and substantial effects on the GIT: these effects may be different (and potentially more important) than those related to ingested ENM.
Taken together, our findings suggest that the GIT should have a primary role in the future research on the biological effects of ENM. In this light, we identified and suggested proper experimental protocols aimed to verify this hypothesis.
Declarations
Acknowledgements
Not applicable.
Availability of data and materials
Not applicable.
Authors' contributions
II and AP conceived the study, reviewed the literature, wrote and edited the manuscript, provided overall guidance to the development of the manuscript; EB critically reviewed and edited the manuscript; VL reviewed the literature and wrote the manuscript; MC, LC, GDP, SI, AM, MM, PP critically reviewed the manuscript and contributed to various sections; LP critically reviewed and edited the manuscript. All authors read and approved the final manuscript.
Ethics approval and consent to participate
Not applicable.
Consent for publication
Not applicable.
Competing interests
The authors declare that they have no competing interests.
Publisher's Note
Springer Nature remains neutral with regard to jurisdictional claims in published maps and institutional affiliations.
Open AccessThis article is distributed under the terms of the Creative Commons Attribution 4.0 International License (http://creativecommons.org/licenses/by/4.0/), which permits unrestricted use, distribution, and reproduction in any medium, provided you give appropriate credit to the original author(s) and the source, provide a link to the Creative Commons license, and indicate if changes were made. The Creative Commons Public Domain Dedication waiver (http://creativecommons.org/publicdomain/zero/1.0/) applies to the data made available in this article, unless otherwise stated.
Authors' Affiliations
(1)
Department of Biomedicine and Prevention, University of Rome Tor Vergata, Rome, Italy
(2)
Department of Sciences and Public Health and Pediatrics, University of Turin, Turin, Italy
(3)
Department of Medical Sciences and Public Health, University of Cagliari, Cagliari, Italy
(4)
Department of Medical and Surgical Specialties, Radiological Sciences, and Public Health, Section of Public Health and Human Sciences, University of Brescia, Brescia, Italy
(5)
Department of Occupational and Environmental Medicine, Epidemiology and Hygiene, Italian Workers' Compensation Authority (INAIL), Rome, Italy
(6)
Department of Public Health, University of Naples Federico II, Naples, Italy
(7)
Department of Medicine and Surgery, University of Parma, Parma, Italy
(8)
Department of Experimental Medicine- Section of Hygiene, Occupational Medicine and Forensic Medicine, University of Campania Luigi Vanvitelli, Naples, Italy