Effects of prenatal inhalation exposure to copper nanoparticles on murine dams and offspring
Particle and Fibre Toxicology
2015
12:30
Received: 15 May 2015
Accepted: 21 September 2015
Published: 6 October 2015
Abstract
Background
Increasing numbers of individuals may be exposed to nanomaterials during pregnancy. The overarching goal of this investigation was to determine if prenatal inhalation exposure to copper nanoparticles (Cu NPs) has an effect on dams and offspring, including an analysis of inflammatory markers (Th1/Th2 cytokine profiles).
Methods
Physicochemical characterization of Cu NPs was performed. Pregnant and non-pregnant mice (C57Bl/6 J) were exposed to Cu NPs or laboratory air in the whole-body chamber for 4 hrs/day on gestation days (GD) 3–19 (3.5 mg/m3). Animals were euthanized on GD 19 (0 week) or 7 weeks later. Bronchoalveolar lavage (BAL) fluid was analyzed for total and differential cells. Cytokine/chemokine concentrations were determined in the BAL fluid and the plasma of dams/non-pregnant mice and pups. Cu content was determined in the lungs and the blood of dams/non-pregnant mice and pups, in the placentas as well as in the whole bodies of pups immediately after delivery. Lungs and placentas were evaluated for histopathological changes. Gene expression of the Th1/Th2 profiles were analyzed in spleens of pups.
Results
The survival rate of 7 week old pups exposed to Cu NPs was significantly lower than control pups (73 vs. 97 %). The average litter size, male/female ratio, body weight and lenght at birth were not different between Cu NP-exposed and control mice. Both pregnant and non-pregnant mice exposed to Cu NPs had significant pulmonary inflammation with increased number of neutrophils in the BAL fluid compared to controls. Perivascular lymphoplasmacytic cuffing was found in the lungs of exposed mice and was more pronounced in the non-pregnant group. Similarly, levels of inflammatory cytokines/chemokines IL-12(p40), G-CSF, GM-CSF, KC, MCP-1, MIP-1α, MIP-1β, RANTES and TNF-α in BAL fluid were significantly higher in non-pregnant than pregnant exposed mice. Histopathology evaluation of placentas did not identify any pathological changes. No translocation of Cu into the placenta or the fetus was found by inductively coupled plasma-mass spectroscopy. Expression of several Th1/Th2 or other immune response genes in pups' spleens were found to be significantly up- or down-regulated.
Conclusions
Prenatal exposure to Cu NPs caused a profound pulmonary inflammation in dams and strong immunomodulatory effects in offspring. There was no clear polarization of genes expressed in pups' spleens towards Th1 or Th2 type of response.
Keywords
Copper nanoparticles
Prenatal
Inhalation
Toxicity
Pregnancy
Mice
Th1/Th2 profiles
Immunotoxicity
Background
Human exposure to ultrafine particles in ambient air has been associated with adverse health outcomes including pulmonary and cardiovascular diseases [1–3], lung cancer [4], allergy and with adverse pregnancy outcomes such as premature birth, reduced birth weight, small size for gestational age and still birth [5]. Animal studies demonstrate that in utero exposure to fine and ultra-fine particles leads to multiple deleterious immunological changes in offspring, such an inhibition of Th1 maturation and postnatal asthma development [6, 7]. It has been shown that in many cases nanoparticles (NPs) are taken up by cells and induce production of pro-inflammatory cytokines and can likely have immunomodulatory effects on the exposed organism [8].
With the fast development of nanotechnology the potential risks of NP exposure to human health is expanding. A wide variety of consumer products already contain a varying array of nanomaterials including health and fitness products, targeting pharmaceuticals, cosmetics, antibacterial clothes, home and garden products, electronics and computers, and paints. Therefore, chances for exposure to engineered nanomaterials are increasing for the public as well as for individuals in the occupational environment. Inhalation is one potential route of exposure and can occur during manufacturing, accidental release of materials, use of consumer products or medical applications. Even though it is a small percentage of the population, the most vulnerable and sensitive group to the adverse effects of NP exposure are pregnant women and their developing fetuses. However, there is limited information about the effects of exposure to nanomaterials during pregnancy. The risk of these materials is not only related to the manufactured quantities and the probability of exposure but also on the reactivity and potency to biological systems, including the immune system [9]. Increased inflammation during pregnancy (including production of a number of pro-inflammatory cytokines) may negatively influence the normal fetal development and may have negative postnatal consequences.
Copper and copper oxide nanoparticles have been used and investigated for a large number of applications, such as oxidation catalysts and as a component of solar cells [10], as well as being the major element of conductive inks and pastes used in inkjet-printed electronics [11]. Other applications are being developed due to their anti-microbial, anti-biotic and anti-fungal properties when incorporated in coatings, plastics and textiles and for biomedical applications [12, 13].
In the last several years, an increasing number of studies have investigated the possibility of transport of nanomaterials via placenta [14–16] and their effect on the fetus [17–22]. If NPs cross the placenta, they might result in a direct effect on the fetus. Indeed an ex vivo study of barrier capacity of human placenta found that polystyrene particles (50, 80, 240, and 500 nm) were able to penetrate the placental barrier [15]. Similarly, an in vivo study in mice showed that quantum dots crossed the placental barrier [17]. There might also be indirect effects of prenatal inhalation exposure to NPs on the developing fetus. Up to now, there are a limited numbers of studies that focused their research on in utero effects of NPs after repeated inhalation exposure [18, 19, 23]. These studies show that even after inhalation exposure during gestation, NPs can directly or indirectly affect offspring. Inhaled cadmium oxide NPs negatively impacted fetal and neonatal development and growth [18]. Inhalation of nano-sized coated TiO2 during gestation caused lung inflammation in adult mice and neurobehavioral changes in offspring [19]. In utero pulmonary exposure to carbon black induced liver DNA damage in dams and offspring [23]. Furthermore, as it was addressed recently by Hougaard et al. [24], there is a lot of uncertainties about embryo-fetal development and health later in life after inhalation exposure to NPs and more studies in this area are warranted.
Normal pregnancy is a complex immunological state. There is a shift from Th1 to Th2 responses that functionally induces maternal tolerance and immunosuppression and protects the fetus [25]. Since nanomaterials have varying biological properties, each NP can cause disparate modulation of the immune system. For example, two catalytically different metallic NPs have shown nearly opposite effects on Th1/Th2 polarization. While titanium dioxide (TiO2) NPs potentiated polarization towards Th1-responses, cerium oxide (CeO2) induced Th2-dominated responses [8].
The objective of this study was to assess the effects of inhalation exposure to Cu NPs on dams and offspring in utero using a murine pregnancy model. Based on previous studies investigating Cu NPs [26, 27], we expected robust inflammatory responses in particle-exposed mothers. We sought to determine if prenatal exposure to inhaled Cu NPs had an effect on 1) basic gestational and developmental parameters, 2) immune/inflammatory responses in the mother during pregnancy compared to non-pregnant mice, 3) translocation of Cu NPs through placental barrier into the fetus, 4) basic pathology of placenta, and 5) immune responses in offspring (expression of Th1/Th2 and other immune response genes in spleens).
Results
The experimental design, exposure timeline as well as number of animals per each time point shown in Fig.
1
highlights evaluation of dams, non-pregnant mice and pups immediately after prenatal exposure to Cu NPs and 50 days later when adolescent pups were evaluated. There were 4 experimental groups: pregnant exposed, pregnant control, non-pregnant exposed and non-pregnant control group. Non-pregnant mice received the same exposure and were necropsied at the same time as pregnant groups.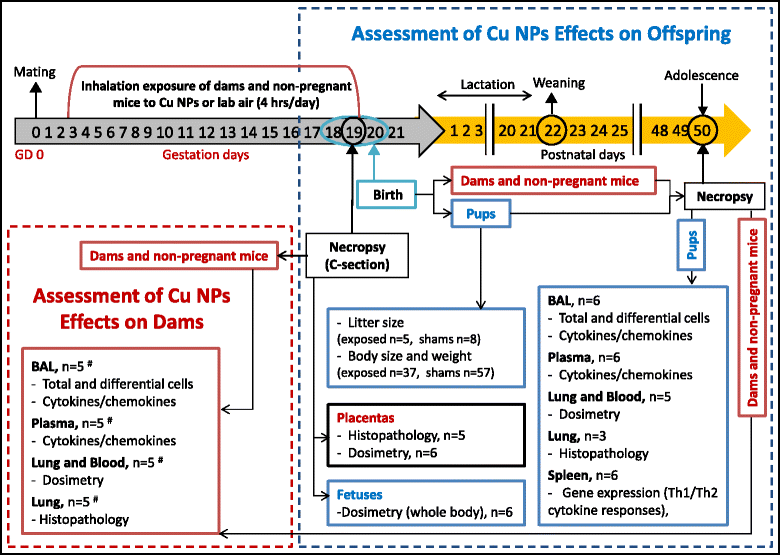 Discussion
Regardless of the numerous benefits of nanotechnology applications, there is a potential health threat from nanoparticle exposure that needs to be addressed also in more susceptible populations, including pregnant women and developing fetuses. Exposure to NPs during sensitive developmental stages of life may predispose an organism to diseases later in life. In our study, we assessed the effects of prenatal inhalation of Cu NPs on dams and offspring using a mouse model.
We performed physicochemical characterization of commercially available Cu NPs immediately after opening the package prior to exposure to the ambient environment, as well as after exposure that occurred during storage and handling. The primary particle size evaluated by TEM was 15.7 ± 9.6 nm. As expected and observed previously, Cu NPs can readily oxidize upon exposure to the ambient environment and this can change the properties of the original nanoparticles. The dynamic nature of Cu NPs is described in Mudunkotuwa et al. [28]. Oxidation of Cu NPs was also observed in our study during storage and handling. Initial characterization of Cu NPs minimally exposed to the ambient air showed the presence of mainly metallic Cu with a thin coating of Cu2O (cuprite) on the particle surface as shown by XPS. The XRD pattern of material exposed to the ambient environment showed the presence of two phases: metallic Cu and CuO (tenorite) only with no Cu2O phase. An average mobility diameter of airborne particles in the whole-body chamber was 35.6 nm with GSD = 1.7 nm.
At present, there is not enough information available to determine a potential hazard of prenatal exposure to NPs especially by inhalation. Furthermore, the exposure limits are nowadays available only for a limited number of nanomaterials (such as TiO2 and carbon nanotubes). Since there are currently no exposure limits for Cu NPs, we based our animal exposure studies on the current exposure limits for coarse copper material. The Recommended Exposure Limit (REL) for copper dust and mist (not including fumes) established by the National Institute for Occupational Safety and Health (NIOSH) as well as Permissible Exposure Limit (PEL) by the Occupational Safety and Health Administration (OSHA) is 1 mg/m3 as a time-weighted average concentration. The estimated dose of Cu NPs in the tracheobronchial and pulmonary region after exposure during gestation was 141 μg/mouse (6.1 mg/kg). This estimated dose corresponded to the lung dose accumulated by a human (70 kg) exposed to a concentration of 1 mg/m3 for a period of 39.7 work wks (assuming breathing frequency of 15 breaths/min, 600 mL/breath, and pulmonary deposition fraction for 36 nm particles of 0.5) [29]. The average length of a human pregnancy is 40 wks.
Conclusions
Prenatal exposure to Cu NPs caused a profound pulmonary inflammation in dams with negative effect on pups' survival after delivery. Many up- and down-regulated genes related to Th1/Th2 type responses point to immunomodulatory effects of Cu NPs in offspring after prenatal inhalation exposure. Our study demonstrated that prenatal exposure to Cu NPs trigger a potent immune Th1/Th2 response in offspring that appear to be activating many pro-inflammatory pathways. However, there was no strong skew either to Th1 or Th2 immune responses in either dams or offspring. We conclude that the changes in expression of immune-response genes in the pups with prenatal Cu NP exposure are due to changes in inflammatory and immune responses of mothers caused by inhalation of Cu NPs rather than due to direct effect of NPs on fetus, since no translocation of Cu was observed through the placenta to the fetus. Further investigation focused on pulmonary prenatal exposure to NPs with postnatal pathogen or allergen challenge, especially in early postnatal stages, might expand our understanding of immunotoxicity potential of metal and metal oxide NPs.
Materials and methods
Nanoparticle characterization
Cu NPs with a primary particle size reported by the manufacturer of 25 nm were purchased from Nanostructured and Amorphous Materials, Inc. (Houston, TX, USA) and used without any further intentional modification. The particles were characterized by X-ray diffraction (XRD) using a Bruker D-5000 q – q X-ray diffractometer with a Kevex-sensitive detector (Madison, WI). The primary size of the Cu NPs was assessed by transmission electron microscopy (TEM, JEOL JEM-1230, Japan) by sizing nearly 1500 particles. X-ray photoelectron spectroscopy (XPS) was used to measure the surface chemical composition of the powdered sample (Ultra-Axis XPS, Kratos, Manchester, UK). The surface area was measured with an automated multipoint Brunauer-Emmett-Teller (BET) surface area apparatus using a nitrogen adsorption method (Quantachrome Nova 4200e, Boynton Beach, FL).
Animals
Mice (C57Bl/6 males and females, 6 wks old) were purchased from Jackson Laboratories (Bar Harbor, ME). All animals were housed in our AAALAC-accredited vivarium, in polypropylene, fiber-covered cages in HEPA-filtered Thoren caging units (Hazelton, PA). They were acclimatized for 10 days after their arrival and were maintained in the vivarium with a 12-hr light/dark cycle with ad libitum access to food and water. All protocols performed were approved by our Institutional Animal Care and Use Committee. Animal handling and exposures conformed to the NIH Guide for the Care and Use of Laboratory Animals. Timed pregnancies were established by mating 2 nulliparous females with one single mature male for two days. Each morning the presence of vaginal plug was assessed and if found, the event was considered as gestation day (GD) 1.
Study experimental design
Pregnant (n = 9) and non-pregnant mice (n = 10) were exposed to atmospheres of Cu NP-aerosol by inhalation for 4 hr/day in a dynamic whole-body exposure chamber from GD 3 – to GD 19 (total of 17 days). The average mass concentration of nanoparticle-laden aerosol in the whole-body chamber was 3.5 ± 1.2 mg/m3 (mean ± standard deviation). Shams, (control mice) pregnant (n = 10) and non-pregnant (n = 10) were exposed to HEPA-filtered laboratory air in the identical exposure chamber in an adjacent laboratory. The schematic of the study experimental design with the number of mice per each evaluated endpoint is shown in Fig. 1. Pregnant and non-pregnant mice were euthanized with an overdose of isoflurane followed by cervical dislocation, thoracotomy and exsanguination through the heart. One group of dams was euthanized on GD 19 and the pups were delivered by C-section (0 wk post exposure). Another group of mice delivered pups spontaneously on GD 18–20; these pups were euthanized at 50 postnatal days (PND, 7 wks from delivery).
Generation of NPs and exposure system
The exposure as well as the generation system were described previously [66]. Briefly, a dynamic whole-body exposure chamber was used for animal exposure. Cu NP aerosol was generated from suspension of Cu NPs in water (Optima grade, Fisher Scientific, Pittsburgh, PA) using a 6-jet Collison nebulizer (BGI Inc. Waltham, MA). Suspensions of Cu NPs in water that were placed into the nebulizer were prepared freshly each day by ultra-sonication with a high frequency probe for 20 minutes. A magnetic stir bar was added into the nebulizer to prevent settling the particles. Particle-laden aerosol from the nebulizer passed through a brass drying column heated to 110 °C and particle neutralizer (containing 10 mCi 85Kr source, TSI Inc., Shoreview, MN) prior to entering the chamber. Mass exposure concentration of generated aerosol was estimated using a gravimetric method. Pre-weighed fiberglass filters (47 mm in diameter, Whatman, Middlesex, UK) held in a stainless steel sampler were connected to the exhaust outlet from the whole-body chamber and sampled every 2 hrs with a flow of 24 L/min. Filters were pre- and post-weighed in a dedicated climate-controlled room using a microbalance (XP26, Mettler Toledo, Mettler-Toledo, Inc., Columbus, OH).
Tissue dosimetry
Cu in the blood and lungs from non-pregnant mice and dams immediately after delivery and 50 days later, and in placentas and in pups delivered by C-section on GD 19 were determined using inductively coupled plasma-mass spectrometry (ICP-MS, Perkin-Elmer ELAN DRC II, Norwalk, CT). The method number ITB001A from CDC Laboratory Procedure Manual adapted for digested tissue and Cu was used for these analyses [67]. Whole blood was collected via heart exsanguination into tubes containing EDTA anticoagulant and stored at 4 °C until analyses. Whole blood was then diluted 50 x using a diluent composed of isopropanol (1 % v/v), tetramethyl ammonium hydroxide (1 % v/v), Triton X-100 (0.5 % v/v) and ammonium pyrolidine dithiocarbamate (0.1 % w/v) in deionized water. Lung tissue (left lobe) and placentas were excised and stored at −80 °C. All tissues were then dried using a Speed Vac concentrator (Savant SPD111V, Thermo Scientific, Waltham, MA). Intact carcasses of pups were dried in the oven at 100 °C for 5 hrs. Dry tissues were then weighed and digested in a HotBlock™ digestion system (Environmental Express, Mt. Pleasant, SC) at 95-98 °C using 0.25 mL of high purity concentrated nitric acid (Fisher Optima® grade). After cooling to room temperature, the samples were diluted to 5.0 mL using deionized water. Determination of total Cu in the whole blood and digested tissues was performed using an ICP-MS with high-purity argon (99.99 %), a PFA-ST nebulizer (Elemental Scientific, Omaha, NE) and a 0.50 mm i.d. capillary connected to a cyclonic spray chamber. Sample data were acquired by using 20 sweeps/reading, 1 reading/replicate, and a dwell time of 50 ms. Argon nebulizer gas flow rate was optimized daily from 0.5 to 0.9 L/min. Data were acquired in counts per second (cps). The following isotopes were selected: 63Cu and 65Cu. Analytical calibration standards were prepared from a single-element stock solution containing 1 g/L of Cu stock solution (SPEX, Metuchen, NJ). For the whole blood measurements, the standards were diluted as follows: 1, 5, 10, 20, 50, 100, 500, 1000, and 2000 μg/L in the same diluent as used for the whole blood. For determination of Cu in tissues and whole bodies, following standard concentrations were used: 1, 5, 50, 100, 500, and 1000 μg/L in 2 % nitric acid. The method detection limit for Cu was less than 1 μg/kg. Rhodium was included in the diluents at 10 μg/L as an internal standard.
Estimated deposited dose
The estimated pulmonary deposited dose in this study was 141 μg/mouse. We assumed a minute volume of 25 mL/min and a deposition fraction of 0.4 in tracheobronchial and pulmonary region combined. Deposition fraction for 36 nm particles was estimated based on the computational modeling of regional deposition fraction for mice reported by Asgharian et al. [68].
BAL fluid and plasma evaluation
To assess pulmonary inflammatory response, BAL was performed in dams after C-section and 7 wks later and in 7-wk-old pups. Lungs were washed 3 times with about 1 mL of 0.9 % sterile sodium chloride solution (Baxter, Deerfield, IL). BAL was centrifuged at 800 × g for 5 min at 4 °C, supernatants were frozen at −80 °C for later cytokines/chemokines analyses and cells were resuspended in Hank's balanced salt solution (Life Technologies, Grand Island, NY). The total number of cells was counted using a hemocytometer. The rest of the cell suspension was fixed on microslides with fetal calf serum (Cytospin 4, Thermo Shandon, Thermo Scientific, Waltham, MA), and stained using Protocol® HEMA 3 stain set (Fisher Diagnostics, Pittsburgh, PA). Differential cell counts (number of macrophages, neutrophils, lymphocytes, and eosinophils) were determined by counting 400 cells using an optical microscope (Olympus, Center Valley, PA). Cytokines/chemokines in BAL fluid supernatants and plasma of dams/non-pregnant mice and pups were analyzed using a multiplex magnetic bead assay (Luminex 100, Bio-Rad Laboratories, Inc., Hercules, CA).
Gene expression by RT-qPCR (reverse transcription real-time quantitative polymerase chain reaction)
RNA Isolation
Lungs and spleens (~30 mg of each tissue) from exposed and unexposed 7-wk-old pups were fixed in RNAlater RNA stabilization reagent (SABiosciences, Qiagen, Valencia, CA, USA) and stored at −20 °C until RNA isolation. Total RNA was extracted using the RNeasy Mini Kit (Qiagen) after tissue homogenization in RLT buffer with the addition of β-mercaptoethanol using a hand-held homogenizer. Genomic DNA was removed utilizing RNase-Free DNase Set (Qiagen). The quality and quantity of a selected number of isolated RNAs were assessed using the Experion automated electrophoresis system (Bio-Rad Laboratories, Inc., Hercules, CA) and the Experion RNA StdSens Analyses kit according to manufacturer's instructions. The quality of the RNA was considered sufficient if the 28S/18S rRNA (ribosomal RNA) ratio was between 1 and 2 and RNA Quality Indicator (RQI) was > 8. All samples were also checked by the NanoDrop spectrophotometer (Thermo Fisher Scientific, Wilmington, DE); the OD260/OD280 ratio between 1.8–2.0 was considered acceptable.
Isolated RNA (0.5 μg) was converted to cDNA using the RT2 First strand kit and mixed with RT2 qPCR SYBR Green mastermix (SABiosciences, Qiagen). Samples were loaded onto a 96-well PCR array (Mouse Th1 & Th2 Responses RT2 Profiler PCR Array, PAMM-034ZA) according to manufacturer's instructions and read using a CFX96 Touch Real-Time PCR Detection System (Bio-Rad Laboratories, Inc., Hercules, CA). The thermocycling conditions were 1 cycle of 95 °C for 10 min (HotStart DNA Taq Polymerase activation) followed by 40 cycles of 95 °C for 15 s and 60 °C for 1 min (fluorescence data collection). Melting curves were performed each time from 55 °C to 95 °C with increments of 0.5 °C for 5 s to ensure that only one amplification product was formed.
Histopathology
Lungs (right lobes) after BAL were perfused via the cannulated trachea and fixed in 10 % zinc formalin (Fisher Scientific, Kalamazoo, MI). Placentas of dams after C-section delivery were harvested and also fixed in 10 % zinc formalin. Tissues were then paraffin-embedded, sectioned (5-μm thickness) and stained with hematoxylin and eosin (H&E). All tissues were evaluated by a board-certified veterinary pathologist for key histopathologic changes including but not limited to inflammatory cell infiltration, fibrosis and cellular injury and necrosis.
Statistical analyses
All data are expressed as mean ± standard error (SE) unless otherwise noted. The data were analyzed using a T-test or one-way analysis of variance (ANOVA) followed by a Tukey test if treatment group sizes were equal. Dunn's test was used in cases when treatment group sizes were unequal. If the Normality Test failed, Kruskal-Wallis one-way ANOVA on Ranks was used. If the Equal Variance test failed, data were analyzed using the Mann–Whitney Rank Sum Test (Sigma Plot v.11.0, Systat Software Inc., Point Richmond, CA). The LIFETEST procedure and Wilcoxon Chi-square test were used to compare survival rates of exposed and control pups. The GLM procedure was used to assess differences in weight gain in dams and pups (SAS software Version 9.4, SAS Institute Inc., Cary, NC). The 84 genes that were assessed in the array related to Th1 and Th2 responses were analyzed using the RT2 Profiler PCR Array data Analysis software version 3.5 (http://pcrdataanalysis.sabiosciences.com/pcr/arrayanalysis.php, SABiosciences, Qiagen). A global mean approach was used for normalization of all samples. A p-value less than 0.05 was considered statistically significant.
Declarations
Acknowledgements
The study was supported by NIEHS/NIH P30 ES005605. We thank Dr. Imali Ama Mudunkotuwa for nanoparticle characterization, Dr. Vicki Grassian for helpful discussions, Dr. Patrick O'Shaughnessy and Ralph Altmaier for their technical assistance with particle generation and exposure set up, Dr. Brian Wels (State Hygienic Laboratory at The University of Iowa) for ICP-MS analyses, and Dr. Kevin Kelly for his help with statistical analyses.
Open AccessThis article is distributed under the terms of the Creative Commons Attribution 4.0 International License (http://creativecommons.org/licenses/by/4.0/), which permits unrestricted use, distribution, and reproduction in any medium, provided you give appropriate credit to the original author(s) and the source, provide a link to the Creative Commons license, and indicate if changes were made. The Creative Commons Public Domain Dedication waiver (http://creativecommons.org/publicdomain/zero/1.0/) applies to the data made available in this article, unless otherwise stated.
Authors' Affiliations
(1)
Department of Occupational and Environmental Health, University of Iowa, College of Public Health, Iowa City, USA
(2)
Department of Internal Medicine, University of Iowa, Iowa City, USA
(3)
Department of Pathology, University of Iowa, Iowa City, USA
Copyright
© Adamcakova-Dodd et al. 2015