Toxicity of graphene-family nanoparticles: a general review of the origins and mechanisms
Particle and Fibre Toxicology
2016
13:57
Received: 13 June 2016
Accepted: 13 October 2016
Published: 31 October 2016
Abstract
Due to their unique physicochemical properties, graphene-family nanomaterials (GFNs) are widely used in many fields, especially in biomedical applications. Currently, many studies have investigated the biocompatibility and toxicity of GFNs in vivo and in intro. Generally, GFNs may exert different degrees of toxicity in animals or cell models by following with different administration routes and penetrating through physiological barriers, subsequently being distributed in tissues or located in cells, eventually being excreted out of the bodies. This review collects studies on the toxic effects of GFNs in several organs and cell models. We also point out that various factors determine the toxicity of GFNs including the lateral size, surface structure, functionalization, charge, impurities, aggregations, and corona effect ect. In addition, several typical mechanisms underlying GFN toxicity have been revealed, for instance, physical destruction, oxidative stress, DNA damage, inflammatory response, apoptosis, autophagy, and necrosis. In these mechanisms, (toll-like receptors-) TLR-, transforming growth factor β- (TGF-β-) and tumor necrosis factor-alpha (TNF-α) dependent-pathways are involved in the signalling pathway network, and oxidative stress plays a crucial role in these pathways. In this review, we summarize the available information on regulating factors and the mechanisms of GFNs toxicity, and propose some challenges and suggestions for further investigations of GFNs, with the aim of completing the toxicology mechanisms, and providing suggestions to improve the biological safety of GFNs and facilitate their wide application.
Keywords
Graphene-family nanomaterialsToxicityToxicokineticsMechanismsPhysicochemical propertiesFuture prospects
Background
Graphene, which is isolated from crystalline graphite, is a flat monolayer composed of single-atom-thick, two-dimensional sheets of a hexagonally arranged honeycomb lattice [1]. Because of its unique structural, specific surface area and mechanical characteristics, the functions and applications of graphene have gained considerable attention since the discovery of the material in 2004 [2, 3]. Graphene and its derivatives include monolayer graphene, few-layer graphene (FLG), graphene oxide (GO), reduced graphene oxide (rGO), graphene nanosheets (GNS), and graphene nanoribbons, etc. [4–7]. GO is one of the most vital chemical graphene derivatives of the graphene-family nanomaterials (GFNs), which attracts increasing attention for its potential biomedical applications. Graphene-based materials usually have sizes ranging from several to hundreds of nanometer and are 1-10 nm thick [8, 9], which is also the definition of 'nanoparticles' or 'nanomaterials'. Due to their exceptional physical and chemical properties, graphene materials have been widely used in various fields, including energy storage; nanoelectronic devices; batteries [10–12]; and biomedical applications, such as antibacterials [13, 14], biosensors [15–18], cell imaging [19, 20], drug delivery [8, 21, 22], and tissue engineering [23–25].
Along with the application and production of GFNs increasing, the risk of unintentional occupational or environmental exposure to GFNs is increasing [26]. And recently, there are some investigation on GFNs exposure in occupational settings and published data showed that the occupational exposure of GFNs had potential toxicity to the workers and researchers [27–29]. GFNs can be delivered into bodies by intratracheal instillation [30], oral administration [31], intravenous injection [32], intraperitoneal injection [33] and subcutaneous injection [34]. GFNs can induce acute and chronic injuries in tissues by penetrating through the blood-air barrier, blood-testis barrier, blood-brain barrier, and blood-placenta barrier etc. and accumulating in the lung, liver, and spleen etc. For example, some graphene nanomaterials aerosols can be inhaled and substantial deposition in the respiratory tract, and they can easily penetrate through the tracheobronchial airways and then transit down to the lower lung airways, resulting in the subsequent formation of granulomas, lung fibrosis and adverse health effects to exposed persons [2, 29]. Several reviews have outlined the unique properties [35, 36] and summarized the latest potential biological applications of GFNs for drug delivery, gene delivery, biosensors, tissue engineering, and neurosurgery [37–39]; assessed the biocompatibility of GFNs in cells (bacterial, mammalian and plant) [7, 40, 41] and animals (mice and zebrafish) [42]; collected information on the influence of GFNs in the soil and water environments [43]. Although these reviews discussed the related safety profiles and nanotoxicology of GFNs, the specific conclusions and detailed mechanisms of toxicity were insufficient, and the mechanisms of toxicity were not summarized completely. The toxicological mechanisms of GFNs demonstrated in recent studies mainly contain inflammatory response, DNA damage, apoptosis, autophagy and necrosis etc., and those mechanisms can be collected to further explore the complex signalling pathways network regulating the toxicity of GFNs. It needs to point out that there are several factors which largely influence the toxicity of GFNs, such as the concentration, lateral dimension, surface structure and functionalization etc. Herein, this review presents a comprehensive summary of the available information on the mechanisms and regulating factors of GFNs toxicity in vitro and in vivo via different experimental methods, with the goals of providing suggestions for further studies of GFNs and completing the toxicology mechanisms to improve the biological safety of GFNs and facilitate their wide application.
Toxicity of GFNs (in vivo and in vitro)
GFNs penetrate through the physiological barriers or cellular structures by different exposure ways or administration routes and entry the body or cells, eventually resulting in toxicity in vivo and in vitro. The varying administration routes and entry paths, different tissue distribution and excretion, even the various cell uptake patterns and locations, may determine the degree of the toxicity of GFNs [44–46]. So to make them clear may be helpful to better understand the laws of the occurrence and development of GFNs toxicity.
Origins of GFNs toxicity
Reportedly, the characteristics of graphene, including its concentration, lateral dimension, surface structure, functional groups, purity and protein corona, strongly influence its toxicity in biological systems [2, 7, 104, 126–129].
Possible toxicity mechanisms of GFNs
Although some physicochemical properties and the toxicity of GFNs have been well studied by many scholars, the exact mechanisms underlying the toxicity of GFNs remain obscure. A schematic of the main mechanisms of GFNs cytotoxicity is illustrated in Fig.
3
.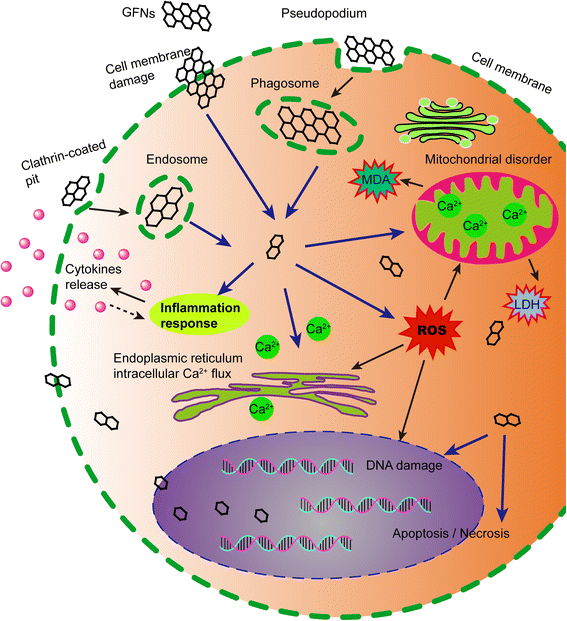 Data gaps and future studies
Currently, the literature is insufficient to draw conclusions about the potential hazards of GFNs. Two opposite opinions have begun to emerge: some researchers suggested that graphene materials are biocompatible in a number of studies focused on biomedical applications [119, 154, 162, 219], and other studies reported adverse biological responses and cytotoxicity [32, 118, 135, 138, 192]. These inconsistent results might have been caused by several factors, including the different research groups, various cellular or animal models, and varying physicochemical characterizations of GFNs. When GFNs are explored for in vivo applications in the human body or some other biomedical applications, biocompatibility must be considered, and more detailed and accurate studies of GFNs toxicity are needed.
First, detailed physicochemical characterization is imperative in all future studies of GFNs toxicity. In the experiments, feature descriptions of GFNs should include their size, morphology, surface area, charge, surface modifications, purity, and agglomeration [88, 141, 148, 162]. Because these physicochemical factors largely influence the toxicity and biocompatibility of GFNs, single-factor experimental designs and the exclusion of other interfering factors should be considered. Details of the fabrication process should also be provided because the formed oxidative debris could largely alter the surface structure of graphene and GO during functionalization [151]. Importantly, a single, universal method needs to be established in graphene technology, which will allow for better comparison of data from different studies or different laboratories.
Second, different observational criteria, parameters and selection of experimental methods might induce large inter-laboratory variations [220, 221]. For example, the MTT assay always fails to accurately predict graphene toxicity because the spontaneous reduction results in a false positive signal. Therefore, appropriate alternative assessments should be utilized, such as the water-soluble tetrazolium salt reagent (WST-8), ROS assay, and trypan blue exclusion test [106, 222]. Additionally, the comet assay often shows higher levels of DNA damage than the micronucleus assay because the former measures the repairable injury and the latter measures the gene damage that remains after cell division [159, 223]. Therefore, caution is required in choosing the most appropriate assay to evaluate the toxicity of graphene materials to avoid false-positive results.
Third, the selection of cell lines is of vital importance because cancer cell lines tend to be sensitive or resistant depending upon their genetic background. The same graphene nanoparticles can cause different reactions depending on their various cells origins. Suitable cell lines with good stability must be used to avoid false positive or negative results. Primary cells derived from humans or animals can better simulate the health conditions of humans. A large amount of primary cells have been utilized to test the toxicity of other nanomaterials [224–228], but the culturing of primary cells is extremely rare in the experiments with GFNs to date [210, 229]. Various cell experiments combined with primary cells should be performed to comprehensively evaluate the physicochemical properties and toxicity of GFNs.
Fourth, the administration route of GFNs plays a very important role in toxicity studies, and different delivery methods will result in different toxicological reactions [32, 53]. Thus, the route and period of exposure should be carefully chosen according to the aim of the study. Nasal drug delivery is often used to study the neurotoxicity of nanomaterials [230, 231], but this administration method has rarely been applied in the testing of GFNs toxicity. Toxicological studies of GFNs in the nervous system are rare, and the mechanism is unclear and needs to be studied further in the future. Recent toxicokinetic studies involving the absorption, distribution, metabolism, accumulation, and excretion of GFNs through different exposure routes have yielded some results but are far from sufficient to clarify the internal complex mechanisms. For instance, further studies are needed to understand the specific molecular mechanisms of GFNs passing through the physiological barriers and the amount of accumulation or the excretion period of GFNs in tissues. In addition, given the increased exposure of humans to GFNs, the assessment of systemic toxicity in the human body is indispensable in future studies.
Fifth, another important issue requiring attention is the long-term fate of GFNs after entering the body or being taken up by cells. Most recent studies have consisted of short-term toxicity assessments [89, 232], and long-term toxic injury has not received much attention since the widespread application of GFNs in 2008. Moreover, a functionalized graphene surface can improve its biocompatibility, but the long-term stability of the surface coatings should be considered [233]. If the surface coatings eventually break down, their toxicity may be significantly different from the short-term exposure results. Extended studies are needed to determine if longer treatment times influence the nanotoxic potential of GFNs.
Sixth, more specific signalling pathways in the mechanism of GFNs toxicity need to be discovered and elucidated. Currently, several typical toxicity mechanisms of GFNs have been illustrated and widely accepted, such as oxidative stress, apoptosis, and autophagy. However, these mechanisms have only been described in general terms, and the specific signalling pathways within these mechanisms need to be investigated in detail. The signalling pathways involved in the toxicity of other nanomaterials may also be relevant to the study of GFNs. Therefore, more signalling pathways should be detected in future research. For instance, nano-epigenetics has been considered in numerous studies of nanomaterials, which is also helpful in assessing the limited toxicity and side effects of GFNs. Recent studies have shown that GFNs could cause epigenetic and genomic changes that might stimulate physical toxicity and carcinogenicity [234]. GFNs have high surface areas, smooth continuous surfaces and bio-persistence, similar to the properties of tumorigenic solid-state implants. It is unknown whether GFNs have the potential to induce foreign body sarcomas, and definitive studies of tumour potentialities or risks of graphene should therefore be conducted as soon as possible.
Conclusions
In the past few years, GFNs have been widely utilized in a wide range of technological and biomedical fields. Currently, most experiments have focused on the toxicity of GFNs in the lungs and livers. Therefore, studies of brain injury or neurotoxicity deserve more attention in the future. Many experiments have shown that GFNs have toxic side effects in many biological applications, but the in-depth study of toxicity mechanisms is urgently needed. In addition, contrasting results regarding the toxicity of GFNs need to be addressed by effective experimental methods and systematic studies. This review provides an overview of the toxicity of GFNs by summarizing the toxicokinetics, toxicity mechanisms and influencing factors and aimed to provide information to facilitate thorough research on the in vitro and in vivo haemo- and biocompatibility of GFNs in the future. This review will help address safety concerns before the clinical and therapeutic applications of GFNs, which will be important for further development of GFNs in biological applications.
Abbreviations
AMs:

Alveolar macrophages
BBB:

Blood-brain barrier
BEB:

Blood-epididymis barriers
BTB:

Blood-testis barrier
CR:

Complement receptor
FcgR:

Fcg receptor
FLG:

Few-layer graphene
GFNs:

Graphene family nanomaterials
GNS:

Graphene nanosheets
GO:

Graphene oxide
GO-COOH:

Carboxylated graphene oxide
GO-DEX:

GO-dextran
GO-MB:

GO-molecular beacon
GO-NH2:

Aminated GO
GO-PAA:

Poly(acrylic acid)-functionalized GO
GO-PAM:

Poly(acrylamide)-functionalized GO
GO-PEG:

PEGylated GO derivatives
GO-PEI:

GO-polyethylenimine
GQDs:

Graphene quantum dots
GSH-PX:

Glutathione peroxidase
GXVG:

Carboxyl graphene
LDH:

Lactate and dehydrogenase
MALDI:

Matrix-assisted laser desorption/ionization
MAPKs:

Mitogen-activated protein kinase
MDA:

Malondialdehyde
MØ:

Macrophage
MR:

Mannose receptor
MSI:

Mass spectrometry imaging
PC12 cells:

Rat pheochromocytoma cells
PCGO:

Protein-coated graphene oxide nanoparticles
PrGO:

PEGylated reduced graphene oxide
RES:

Reticuloendothelial system
rGO:

Reduced graphene oxide
ROS:

Reactive oxygen species
SOD:

Superoxide dismutase
TLRs:

Toll-like receptor
Declarations
Acknowledgements
Not applicable.
Funding
This review was supported by the National Natural Science Foundation of China (81550011, 51172283, 81400557), Natural Science Foundation of Guangdong Province (2015A030313299) and Guangdong Provincial Medical Research Foundation (A2016360).
Availability of data and materials
Databases/repositories and materials is not applicable in this review.
Authors' contributions
All authors contributed to the design and concept of this article. LO drafted the manuscript. BS and JL critically revised the manuscript. All authors read and approved the final manuscript.
Competing interest
The authors declare that they have no competing interests.
Consent for publication
Not applicable.
Ethics approval and consent to participate
Not applicable.
Open AccessThis article is distributed under the terms of the Creative Commons Attribution 4.0 International License (http://creativecommons.org/licenses/by/4.0/), which permits unrestricted use, distribution, and reproduction in any medium, provided you give appropriate credit to the original author(s) and the source, provide a link to the Creative Commons license, and indicate if changes were made. The Creative Commons Public Domain Dedication waiver (http://creativecommons.org/publicdomain/zero/1.0/) applies to the data made available in this article, unless otherwise stated.
Authors' Affiliations
(1)
Nanfang Hospital, Southern Medical University, Guangzhou, China
(2)
The First Affiliated Hospital of Jinan University, Guangzhou, China
(3)
The General Hospital of People's Liberation Army, Beijing, China